King's School Archive Update Page
---
10 September 2018 (UD18/06)

1) The 2018 Reunion was enjoyed by all who were able to attend this year. There were 17 of us old boys, including Douglas Whear 'Ginge' the old caretaker as one of our number. The current caretaker Graeme was our guide. All told there were 20 at Sherborne House and at the Sherborne Arms in Aldsworth for buffet lunch. The Dinner was held at the De Vere Cotswolds Water Park near Cirencester.
Our thanks go to Andrew for arranging the venues and Nigel Dodds for getting permission to visit the old 'school' building once again. We look forward to doing it again next year.
Pictures may be posted on our Facebook page.
2) Mike Taylor has added a few more pictures.
3) Nick Jenkins contacted me! He was at school in 1955 - but only for a year.
---
31 August 2018 (UD18/05)

1) King's School 2018 Reunion, Saturday 8th September - please remember/note the new time we are meeting at the church 10.45am for tour at 11am. An hour earlier than previous years to allow time to share memorabilia and not to have to rush off for lunch.
2) I have removed a PayPal Donations link from the Update page as no further funds are required, thank you. I have also removed the Flags of the World counter from the homepage. In both cases to ensure that I comply with the updated Data Protection Act about 'cookies' collected by some sites when a page is visited. The Flag counter has now served its purpose anyway. It was never entirely accurate due to multiple visits being added automatically, but at least it showed a world wide interest in the site. This was its final status: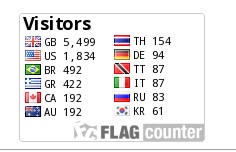 ---
7 August 2018 (UD18/04)
1) Getting very close to this year's Reunion. If anyone is thinking of coming please let me know so we can look out for you, to avoid someone dining alone as happened last time.
2) A while back Mike Taylor sent me some pictures that I intend to get onto the site when I can. Please bear with me.
---
22 May 2018 (UD18/03)
1) It is with sadness that I report the passing of Zahir Sultan on 16 September 2017.
---
19 April 2018 (UD18/02)
1) It is with sadness that I report the passing of my old friend John Carter on 31 March 2018.
---
16 February 2018 (UD18/01)
1) King's Shool Reunion will this year be on the weekend of 8th and 9th of September. Booking dertails and information on the Reunion page.
[ KS Directory ]